Discover Quality Ford Service and Car Repair in Arcadia, LA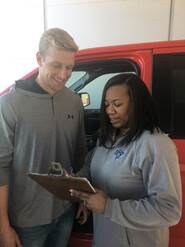 Drivers in Arcadia, Ruston, Minden, Monroe and Homer know where to go when it comes to a routine check-up, a quick fix, or when the engine is making a sound that just isn't quite right; the seasoned technicians at our service and repair center will get your Ford Escape, Explorer, F-150, Super Duty or Fusion up and running quickly and affordably.
Our secret? Aside from being trained specifically to work on your Ford, we only use the brand-certified parts. That's right: the very same ones you'd find on the assembly line where your car was made.
If you're interested in seeing what we can do for your car, fill out our convenient online contact form, give us a call, or come on over to make an appointment. Once you've been scheduled, we'll get you in and out before you can say 'JPS Ford is Makin It Easy!'
Why Trust the JPS Ford Service Specialists?
Whether you're from Ruston or Minden, LA, you want the best auto service for your automobile and the certified service technicians at JPS Ford are ready to deliver. From simple maintenance like oil changes to crucial services like brake replacements, our team will deliver. Our team of certified technicians in Arcadia, LA provide top-notch auto service so you can drive confidently throughout your life. Every team member at our service center is highly trained to know exactly what your automobile needs and when it needs it. Even if you don't know exactly what's wrong with your vehicle, our team can analyze the problem and give you an honest recommendation on service.
Common Auto Service Needs Around Arcadia

Oil Changes
Oil changes are a necessity when it comes to long-term vehicle maintenance. Having your oil changed roughly every 3,000 miles ensures your oil is fresh, your engine stays lubricated, and you get the best performance out of your car.
Tire Rotations
Tires inevitably wear, but you can help your tires wear evenly by having regular tire rotations. Depending on whether your vehicle is front, rear, or all-wheel drive, your tires will be rotated differently to ensure you get the most out of the tire tread.
Brake Replacement
Brakes are one of the most important parts of your vehicle and ensure that you can avoid collisions. If you notice squealing, steering wheel shake, or pulsating while braking, you need to have your brakes inspected.
Schedule Your Next Service Appointment Online
If you're ready to find a service center that you can trust, visit our dealership in Arcadia, LA near Homer, LA. Our team of service specialists will be ready to get you back on the road quickly. To have the quickest service experience, you can schedule a service appointment online below.